IT for Fuel Delivery
Click here to read
IT for Fuel Delivery
Issue: June 2011 | Posted on: 5/19/2011
Fuel Oil News
By: Stephen Bennett
---
With mobile communications and computer software, fuel oil dealers can automate much of their delivery and management processes to enhance efficiency and productivity. Implementing such technology also accelerates the invoicing process, which can be a boon to the bottom line.
Digital Dispatcher
Digital Dispatcher is marketed as an inexpensive option, the company's literature says, because there is "no massive hardware investment. Most customers already have the cell phones, computers and other hardware tools necessary to implement the system."
"We typically use the cell phone network and the cell phone itself as the field mobile device, which you can pick up at the local Verizon, Sprint or AT&T store," said Tom Duffey of Digital Dispatcher, based in Jenkintown, Pa. "That's our point of differentiation. Smart phones and rugged tablets are very inexpensive. You can get a rugged tablet for under $200." In comparison, ruggedized handheld computers and ruggedized laptops cost thousands of dollars, Duffey pointed out.
Digital Dispatcher includes a full back office suite, which interfaces with customer accounting software. This includes a fuel delivery field management solution for home heating oil deliveries, which features a comprehensive interface to existing customer accounting software packages.
For example, Duffey said, work orders are picked up by the Digital Dispatcher program, working in conjunction with the accounting software. The Digital Dispatcher program features tools to help execute those work orders, including route optimization, which is growing increasingly useful, Duffey said. "There are a lot of companies that are doing more same day, will-call deliveries in addition to the pre-defined routes," he said, and Digital Dispatch is especially suited for that scenario. What would typically involve "a cumbersome, labor-intensive voice communication between the dispatcher and a driver in the field can be managed with a couple of clicks of a mouse," Duffey said.
The system also makes use of a Bluetooth connection in the field to interface with electronic registers on the oil trucks, and printers to print reports and delivery tickets.
In addition to fuel delivery field management software, Digital Dispatcher offers software for managing oil burner and air conditioning service departments and their technicians in the field
Dispatching and Driver Communications Roundup
Click here to read
Dispatching and Driver Communications Roundup
Issue: May 2007 | Posted on: 9/16/2008
Fuel Oil News, Feature Story
By: Debra Reschke
---
For fleet managers of mobile fueling companies looking to run their business as tightly as possible, communication is a lifeline. Keeping tabs on mobile fueling trucks is now becoming easier with new technology that helps monitor the inventory as well as driver practices. Two-way communication can be a tremendous help in dispatching, such as letting the driver out in the field know if a customer has been skipped. It is that type of visibility that is important.
Because of the fuel prices, customers and fleet managers are increasingly realizing they need to be as efficient as possible, and thus, are turning to dispatching services. "The fleet managers' requirements for mobile fueling have become more demanding. They need detailed fueling information immediately,".
"Margins are real tight," he said. "Where can you affect your balance sheet?" And the answer for many mobile fueling companies is to cut fuel costs, which can be their biggest day-to-day expense. Additionally, the quicker accurate data gets into the hands of fleet managers the easier it becomes to avoid wasting time and fuel. Surrounding the manual based processes involved in fleet fueling, customer service problems can abound.
"Fleet managers as always are under pressure to control operational costs." The application provides drivers a handheld, weatherproof computer, eliminating paperwork. With tools like these, drivers can receive the customer's information on demand as well as be able to communicate via text anytime.
Company: Digital Dispatcher
Contact Person: Tom Duffy
Market Area: North America
Types of Services Offered: Fuel Delivery and Service Logistics/Efficiency/Tracking Software
Phone: 888-426-6764
Email: td@digitaldispatcher.com
Change is Good: New dispatching solution unburdens the work force at Valley Oil
Click here to read
Change is Good: New dispatching solution unburdens the work force at Valley Oil
Issue: April 2006 | Posted on: 4/1/2006
Fuel Oil News, Cover Story
---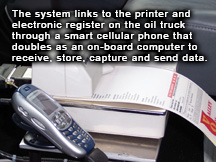 When a current operational procedure involves hours and can be replaced by a procedure that takes minutes, then change is good. Valley Oil of Hopewell, N.J., identified a number of core operational procedures that burdened management, office staff and field personnel. They then researched a number of solutions that would help them reduce the time burden on these positions. In the end, they chose an integrated solution that included replacing their back-end customer accounting software, upgrading to electronic meter registers on their fuel delivery trucks and deploying a wireless data communication system that linked the office and the field. Randy Jaeger, operations manager at Valley Oil, admitted that they were a little intimidated by the prospect of taking on so much change at one time. Yet, in Jaeger's words, "the transition went smoother than we anticipated and the results exceeded our expectations. This is a feature-rich solution that offers more than we could have hoped. Posting the previous day's work and preparing the next day's route used to require a full-time assistant and take three to four hours of my time daily. We were able to eliminate the need for an assistant and now I can get the same work done in less than 30 minutes. The savings to the company are significant and can be measured in saved time and saved dollars."
Among other things, features of Valley Oil's integrated system include:
Complete customer accounting and record-keeping
Flexible and robust report generating
Comprehensive delivery and service scheduling
Electronic route building using sort criteria such as degree day, date, driver, truck, zone, product and much more
Mapping and route optimization tools
Real-time vehicle and inventory tracking
Real-time status and productivity reporting
Voiceless digital dispatching
Wireless data capture
Electronic batch posting
Field invoicing and printing
Multi-product calibrations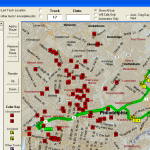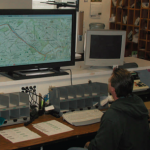 The system allows Jaeger to monitor the progress of drivers throughout the course of the day and makes reassigning work from one driver to another a breeze. The occasional same-day emergency order can be dispatched with just a few clicks of a mouse.
"The decision to go with this system has radically changed, for the good, the way our dispatching operation gets the job done," said Jaeger. "I am very happy we made this move." Efficiency gains are achieved through the full cycle of the delivery work order, from the time the "ticket" is created in the customer accounting software, through the delivery process and until the completed delivery is posted to the customer's record.
When asked about any drawbacks to the system, Jaeger said, "you have to be realistic when deploying a solution built around wireless technology. You will have occasional 'dropped calls,' but the system has smart, built-in safety nets; you never lose data. Occasionally, you have to recapture or enter data manually, but that is a minor issue compared to the enormous benefits of the system as a whole."
When asked about the support from the vendors who provided the components of the integrated system, Randy's comment was "we don't want our close competition to have this technology; it gives us a competitive edge, so if you don't compete with us, we highly recommend them."
Fortunately for Valley Oil, ownership, management, office staff and field staff have all embraced the change, and with the exception of the person whose position was eliminated, all are benefiting from the change.
Jon Brost, service manager at Valley Oil, has been an interested observer of the transition to this technology from across the room. Brost saw the phenomenal improvement in the efficiency of the fuel-delivery operation over a matter of a few short months. Brost now wants the same technology for his service department.
Fortunately for Brost, the same central vendor that orchestrated the integration of the fuel-delivery solution for Valley Oil offers a comparable solution for the service department. Valley Oil is looking forward to deploying this technology in its service department this summer. There is no doubt that this deployment will change the way service gets dispatched and managed at Valley Oil, but Valley has found that "Change is good!"
For specific information on the Valley Oil selection of vendors for its integrated solution, e-mail td@digitaldispatcher.com.
Handhelds/Routing
Click here to read
Handhelds/Routing
Date: January 1, 2006
LPGas
By: Troy Sympson
---
Routing systems and handhelds: bringing information home
T
he propane industry is one that can greatly benefit from computerized routing systems to help manage vehicle deliveries in remote areas.
Current routing programs enable companies to keep track of deliveries, driver productivity and vehicle location and interface with in-truck systems or a handheld device.
Automation can not only provide information about what drivers are doing, but also the potential to save the them a significant amount of time during the day.
The routing systems feature easy to use screens with accessibility to all business data. The handhelds can be used to automatically generate a driver's delivery route and optimize the order of deliveries, minimizing the distance traveled by each delivery truck – a huge advantage when considering rising fuel costs.
Drivers can also record delivery information on handhelds and generate invoices onsite. By eliminating paperwork and giving the driver all the sales information while he's making deliveries, non-payments and delivery mistakes can be avoided.
At the end of each day, delivery and invoice information is downloaded from the handheld to the office computer, keeping everything in order and making it easier to balance the books.  Its long list of functions: statements, invoice, discounts, budgets, contracts, service work orders, equipment file with production and maintenance history, driver/employee records and tax reporting.  The delivery/dispatch report allows users to specify a route, route range or a random selection of routes. Selecting a date or date range drives all scheduling, including degree days, as the system will look at a several year averages of degree days for the dates specified.
Delivery/dispatch reporting also allows the option to include manual deliveries (will call delivery requests taken) and scheduled will calls. This list is displayed on-screen for editing, with extensive customer account data, enabling the dispatcher to make management decisions such as removing a delivery or adding a note for the driver.
Report can be listed by order of need, sequence within route or in an order that requires the least number of miles. The approved deliveries can then be printed or downloaded to an electric truck device system to generate an electronic delivery ticket number.  Routing systems can also be interfaced with handheld devices or industry specific devices (electronic truck systems/registers, pumps, mapping, etc.).
The data downloaded to the truck system will provide the driver with information on customer location, directions, tank serial numbers, price, tax, discount and contracts data, enabling the truck system to extend and complete the transaction and print the ticket.
This data is uploaded electronically, eliminating the manual keying of tickets. The truck system or handheld may also have the option of capturing the GPS coordinates, which can be used for mapping.
In summary, routing systems enable the scheduling of deliveries to maximize the gallons delivered in the fewest miles driven, thus increasing bobtail delivery efficiency.
Customized Flat Rate on Mobile Hand Held Device Increases HVAC Profitability
Click here to read
Customized Flat Rate on Mobile Hand Held Device Increases HVAC Profitability
---
Proprietary Hand Held Device Provides Greater Profitability
Digital Dispatcher, one of North America's leaders in innovative handheld efficiency enhancing systems for the HVAC industry, has developed a proprietary customizable flat rate program for their handheld mobile device, named DIGITAL FLAT RATE (DFR).
Although flat rate pricing has been used for decades many HVAC (heating, ventilating and air conditioning) companies use an outdated time and materials billing method.  Their technicians spend a considerable amount of time explaining and defending their hourly rates to customers creating an inefficient and sometimes uncomfortable conversation for both parties.   DFR was created to dovetail seamlessly with the DIGITAL-SERVICE mobile device providing HVAC techs a streamlined, high-tech process that increases billable hours while removing the potential for difficult or unpleasant customer conversations about pricing.
As every HVAC company uses different supply houses and typically specializes in slightly different work another key benefit of DFR is that its software suite is designed to allow for easy creation of a flat rate manual customized for the work performed by each HVAC company.   This means that the flat rate manual is not as big as a telephone book like many older flat rate manuals.  It also means that it is simpler, easier to use and gains technician acceptance faster.  For the business it means that they can update it often and quickly pass along cost increases to enhance profitability.
DFR is unique in that it is fully integrated into the DIGITAL-SERVICE handheld system helping the service tech quickly and easily move through the flat rate process ensuring the flat rate system is properly used and that inventories are keep accurate as well.   "As a key component of more profitable HVAC companies the creation of DFR took place 12 ago and has been widely appreciated by all our DIGITAL-SERVICE customers."  Says Tom Duffy, Founder of Digital Dispatcher and former owner of Kelley Service "Having flat rate program tweaked and tailored to an individual company not only increases profitability but simplifies the HVAC business for the HVAC team.  It's a welcome relief to a busy service department."
"Flat rate is going to become the standard of the industry. However, the reason is not because it is a great system, it's because it is the only system we currently have available that allows the company to charge what they really need to charge per hour without showing the customer the actual hourly rate. Brace yourself, flat rate pricing is coming like it or not!" says Tom Grandy a 30 year veteran consultant in the industry.  "Our customers say their average ticket price goes up 5-10% immediately upon implementing," says Tom Duffy. "They love the flexibility the system gives and the peace of mind that their costs are being adequately charged out every time."
Once at an appointment, technicians can quickly determine the cost to the customer so there are no customer surprises.  This improves customer relations by presenting a professional appearance to homeowners.  A recent national survey of the buying public found that 91% would rather by service that had a fixed fee (or flat rate) than have service performed on a time and materials basis.  This seems to affirm the HVAC industry move toward flat rate pricing.
Mobile Hand Held Device Increases HVAC Technician Efficiency
Click here to read
Mobile Hand Held Device Increases HVAC Technician Efficiency
---
Proprietary Hand Held Device Provides Greater Efficiency
Digital Dispatcher, one of North America's leaders in innovative handheld efficiency enhancing systems for the HVAC industry, has developed a proprietary handheld mobile device, named DIGITAL-SERVICE.
Most HVAC (heating, ventilating and air conditioning) technicians spend a considerable amount of the workday sorting through copies of work orders, translating illegible service appointments notes, and navigating to the next appointment. The DIGITAL-SERVICE mobile device provides HVAC techs a streamlined, high-tech process that circumvents these inefficient tasks.
DIGITAL-SERVICE technology links cutting edge ruggedized Andriod devices (Smart Phones, Lap Pads, etc) to dispatch and a central documentation application. This shift from the old walkie-talkie devices (like those used by UPS/Fedx) or the old radio-based dispatch and paper documentation system provides Technicians more accurate routing and quick, electronic access to customer files.
"This system has been evolving for over 14 years all within real high op-tempo metro operations.  10 years ago Digitial Dispatcher began installing it in operations throughout the United States and Canada." says Tom Duffy, Founder of Digital Dispatcher and former owner of Kelley Service "Having access to real-time data allows our technicians to work DIGITAL-SERVICE and schedule more appointments per week."
The time-savings begin with dispatch. Before DIGITAL-SERVICE, techs radioed back and forth with the dispatch center for routing information and confirmation, involving several minutes of waiting. A few minutes multiple times per day times 10-100 technicians results in some pretty high numbers, numbers that represent lost time and money. DIGITAL-SERVICE allows real time communication between technicians and dispatchers circumventing this costly delay.  Location Tracking within the device ensures technicians are given the most efficient route to the next appointment, saving time, gas and redundant radio time.  The system even provides audible turn by turn directions.
"Our customers say their average ticket price goes up 15%," says Tom Duffy. "DIGITAL-SERVICE ensures the techs offer additional products and services to improve a customer's indoor comfort and ensures our technicians bill accurately."
Once at an appointment, technicians document details from the current visit — storing clear information for future service visits. This improves customer relations by presenting a professional appearance to homeowners and improves service on later visits by ensuring accurate and available information. Customers benefit by having a technician who knows the history of their home and heating or air conditioning unit.
Device Also Acts As Point-of-Sale
"DIGITAL-SERVICE links to a wireless printer on the techs tool bag allowing him to print the invoice for the customer from within their house saving considerable in invoices, postage, processing and in lost invoices" says Tom. "This makes the techs and office team more efficient and frees them up for revenue generating activities."
Two NEW additions to the DIGITAL-SERVICE program include bar code scanning functionality, and on site electronic signature capability.
The DIGITAL-SERVICE program has brought a strong return on investment for its users. Real-time data allows centers to better manage the daily operations of its technicians and also to track opportunities for training and development. The speed of the DIGITAL-SERVICE program allows users to realize revenue two-three days earlier than when using a paper-based system, improving cash flow. Costs have also decreased across administrative functions while data quality has improved.
Tech training programs have also improved, thanks to DIGITAL-SERVICE. Center managers need only review recent digital transactions to see how a tech interacts with customers. As a result, center managers are able to work with techs on areas that need improvement such as generating leads, making recommendations and growing sales. The electronic record of service calls means techs get feedback on their performance, can offer even better service and their their recommendations are saved for office follow-up creating a repository of warm leads for additional revenue in slower seasons.